It's our Golden Anniversary! Come celebrate our 50 years of service as we honor the past and secure the future. We have a legacy of love…50 years and counting. Join us to celebrate this momentous occasion!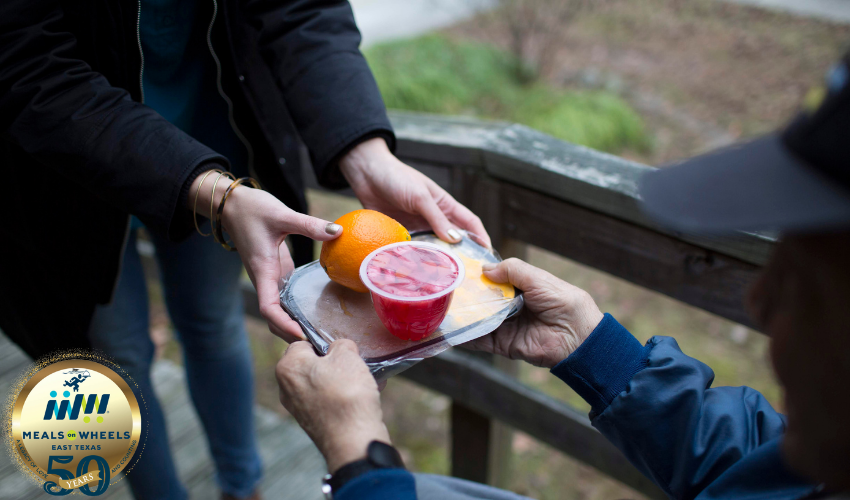 We have a beautiful evening planned to celebrate our history of service in East Texas and come together as a community to ensure our legacy continues for another 50 years.
5:30pm VIP Golden Hour for VIP ticket holders
6:30pm Semi-Formal Dinner
Silent Auction, Live Auction, and Words for Tomorrow
Preview Silent Auction items here.
Preview Live Auction items here.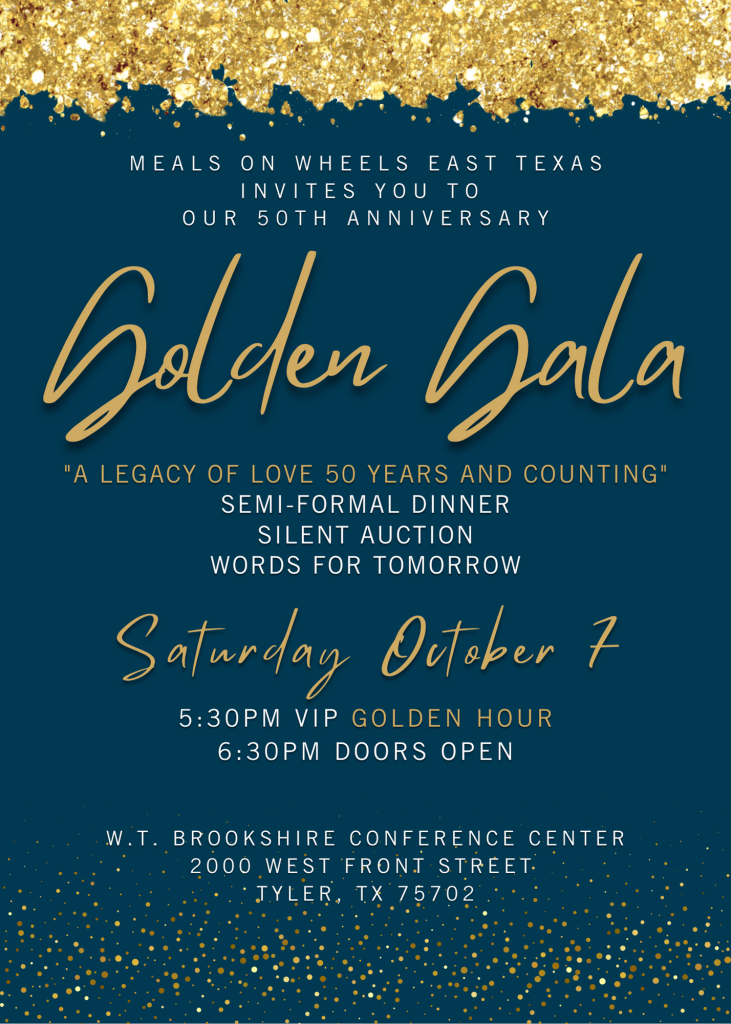 ---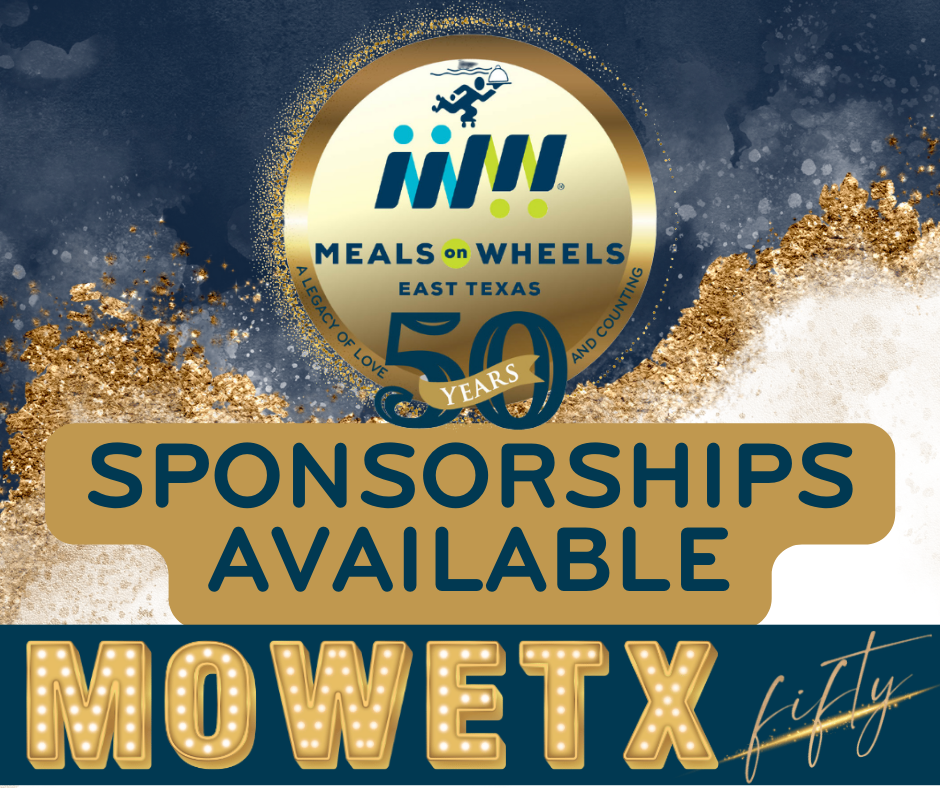 ---
First Meal Delivered
In 1973, the Governor's Smith County Committee on Aging conducted a study to determine how the community could best care for senior citizens. They enlisted the assistance of the Ministerial Alliance, and after some study and discussion, the group determined that inadequate nutrition was a major issue plaguing the senior population. They also believed that many of the elderly could continue living independently in their own homes instead of going into nursing homes if they had help with their meal preparation.
A steering committee was appointed to examine the best way for the community to solve the problem of senior hunger, and committee members began visiting cities that had Meals on Wheels programs. Some programs provided only home-delivered meals, and others, with help from federal funding, had senior centers where able-bodied seniors could enjoy fellowship and get a balanced meal for a small donation. That same year, Meals on Wheels Ministry, Inc. was formed and incorporated. There were four sponsoring groups: the Tyler Ministerial Alliance, the East Texas Hospital Foundation, the Smith County Area Health Council, and the Governor's Council on Aging.
Committee members selected 30 recipients from the original 45 screened applicants, and Ms. Laura Sebastian, age 97, received the first meal delivered by Mrs. Hershel Sobol and Mrs. Bessie Sawyer on October 15, 1973. Meals were purchased from Wyatt's Cafeteria on Beckham in Tyler.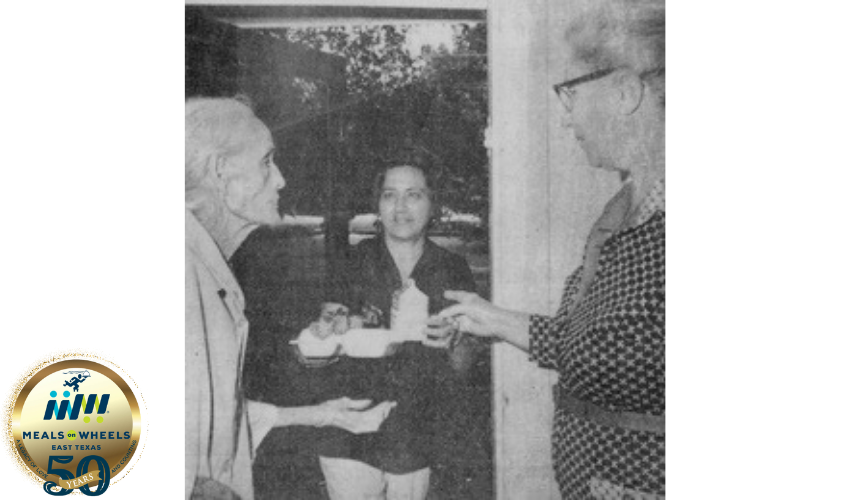 ---
A Mission in Motion
Did you know Meals on Wheels East Texas operates uniquely from other Meals on Wheels organizations across America? Tarrant County Meals on Wheels, for example, serves more clients than we do but covers a smaller square mile area than Smith County; volunteers deliver all of the meals for their organization because the metropolitan neighborhoods are easily accessible. Our organization services seven counties that include a large amount of rural areas not easily covered by volunteers using their personal vehicle and fuel.
We employ 50 drivers who deliver bulk meals to each site in multiple communities in each county where volunteers take it from there. These paid drivers also deliver individual client meals to those living in rural areas in each county.
Those drivers each have a vehicle owned by Meals on Wheels East Texas to use for these meal deliveries. Cargo vans, minivans, SUV's, and hatchback cars filled with coolers of ice and milk and heated bags full of healthy meals cover over 2600 square miles four days a week to ensure our older adults in East Texas are nourished, cared for, and visited.
We are truly a mission in motion.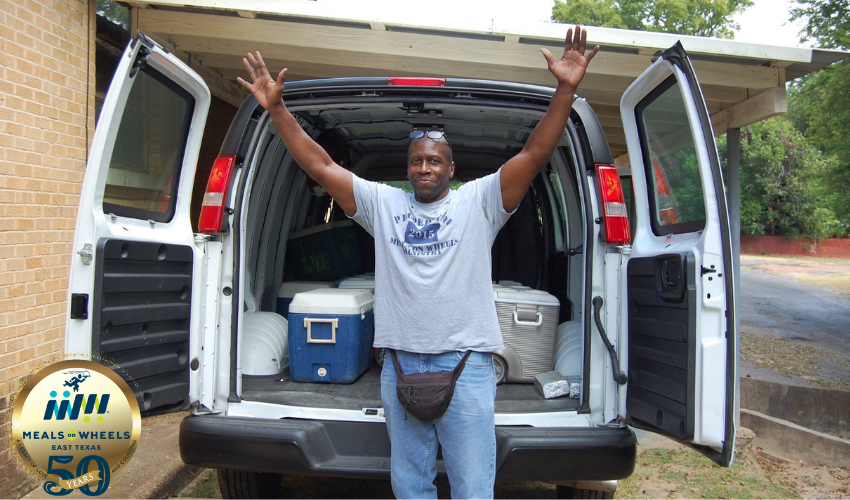 ---
East Texas, Let's Do Lunch
Meals on Wheels East Texas now covers seven counties in East Texas: Gregg, Harrison, Henderson, Smith, Van Zandt, Upshur, and Wood. We currently serve close to 2700 older and/or disabled adults in East Texas with four friendly visits and five healthy meals each week. Our tagline is "more than a meal" because while the meal nourishes the body, the social encounter and friendly visit with a caring volunteer or driver nourishes the soul.
Studies show the effects of loneliness and isolation on an older person's physical health is the equivalent of smoking a pack of cigarettes a day. We aim to remedy the need for food and human connection in our community with personalized meal delivery Monday through Thursday week in and week out with an occasional day missed due to a holiday, in which case extra meals are delivered ahead of time.
We are also a source of referrals for other community resources for our clients. We work with PATH-People Attempting to Help in Tyler, the United Way in several counties, the East Texas Food Bank, the Alzheimer's Alliance, Adult Protective Services, the Texas Department of Health and Human Services, Habitat for Humanity, and many more to be able to direct our clients to care and services that go beyond our reach. We are adding to our list all the time.
A little known fact about our organization: we have a pet program too! Meals Fur Pets was developed 15 years ago as a collaborative effort with Pets Fur People. We provide dog and cat food to our clients who have furry friends. Studies show older adults who live alone but have a pet are less likely to suffer the negative health effects of loneliness compared to their companionless peers.
At one time, clients were opting to feed their pet their Meals on Wheels meal rather than eat. Meals Fur Pets ensures these pets are well-fed and continue to provide life-enhancing support to their human family member…and our clients can eat their own meal.
All of these efforts combine to keep older adults living independently in their own home where they most want to be for as long as possible.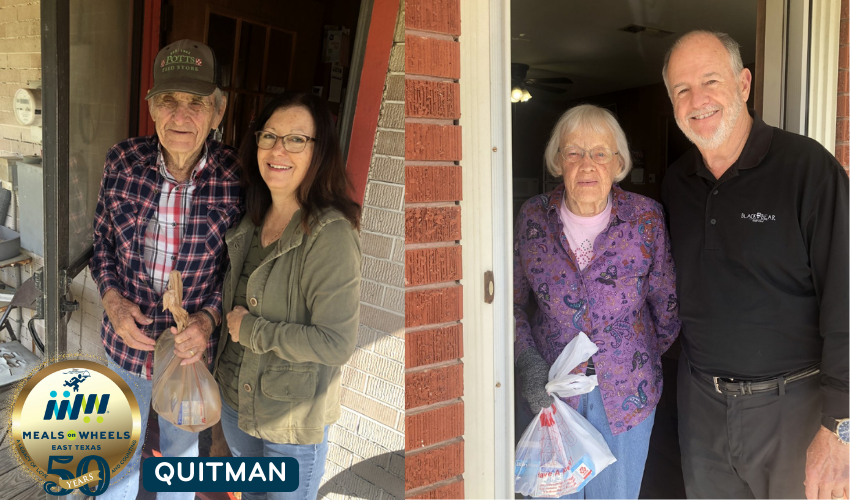 ---
Why Support the Gala?
As everyone fully understands, inflation continues to be an increased burden on the average American household. As a nonprofit ministry, Meals on Wheels East Texas has experienced the doubly difficult combination of increased prices of food, fuel, and extraneous costs associated with our mission along with longtime donors being unable to contribute as much, as frequently, or at all due to their own increased expenses.
When you purchase tickets, register for a sponsorship package, and participate in the silent and live auctions, you are directly impacting lives in your community.
Those we serve were once our local school teachers, little league coaches, military heroes, city workers, and more. They raised children and sometimes grandchildren. They served on committees and sang in the church choir. We cannot leave them isolated, lonely, and hungry as they age; it is an injustice we simply cannot ignore. They need to know they are not forgotten.
Meals on Wheels makes a tangible difference in the lives of those we touch as well as the overall economic health of East Texas
We can serve an older adult for an entire year for roughly the same cost as a day in the hospital or 10 days in a nursing home, saving taxpayers millions of dollars each year by simply helping keep them in their own home, well-fed, socially connected, and supplied with referral resources and services to give them the support they need.
Our main costs:
*Food and food packaging
*Fuel
*Vehicle insurance on 50 vehicles
*Vehicle maintenance costs on 50 vehicles
*Replacement vehicles as needs arise
*Extra programs: Santas for Seniors, Meals Fur Pets, Summer Fan Drive
When you give to Meals on Wheels East Texas, you are making a tangible difference in an the lives of Loatie, Phil, Joyce, Pedro, Marion, Margarite, Erletha, Debra, Cherly, Richard, Tommy, and Connie. These are the 12 clients who make up Route 9 in Tyler. There are hundreds of these routes across East Texas, each with a list of names, people whose lives are impacted by your support of our work.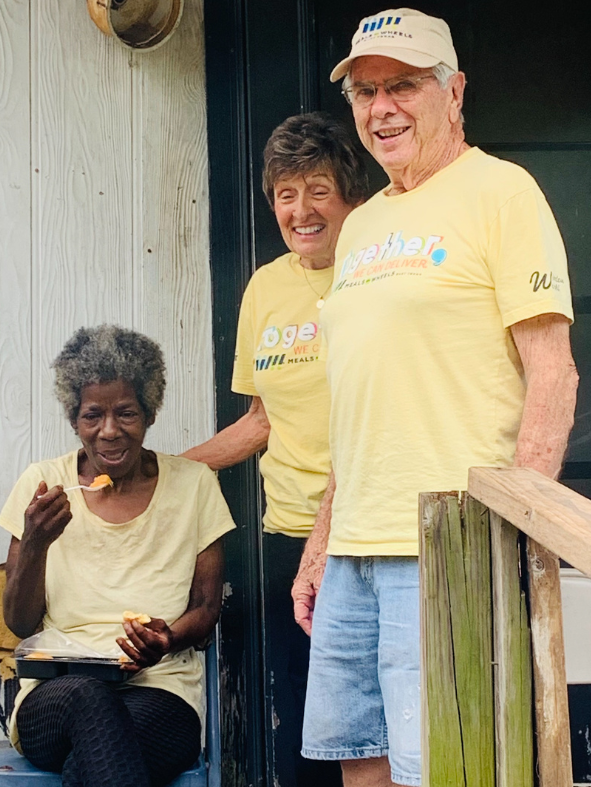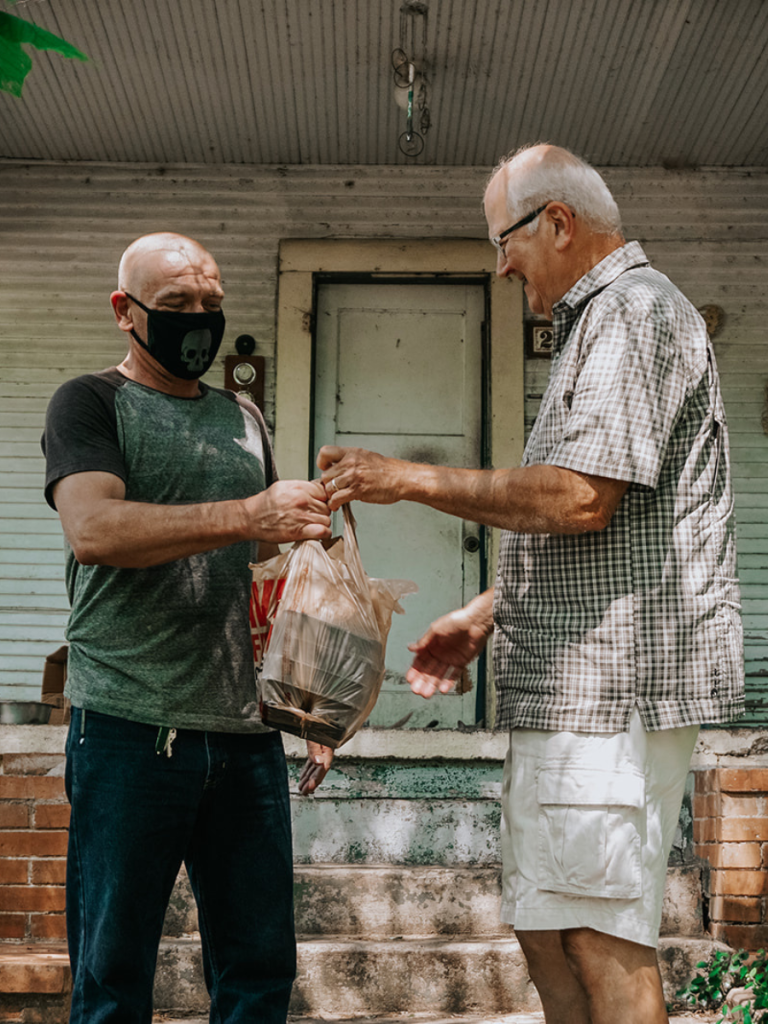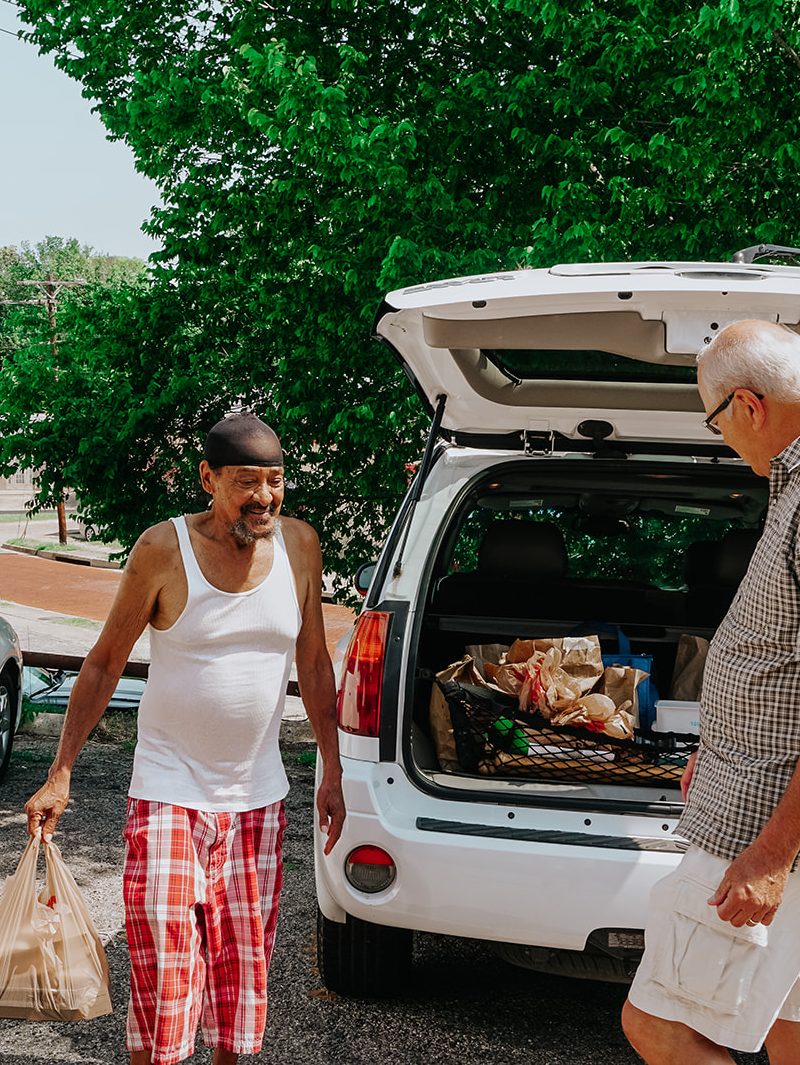 ---
How to Support the Gala?
---
Keep our Mission in Motion…for the Next 50 Years!