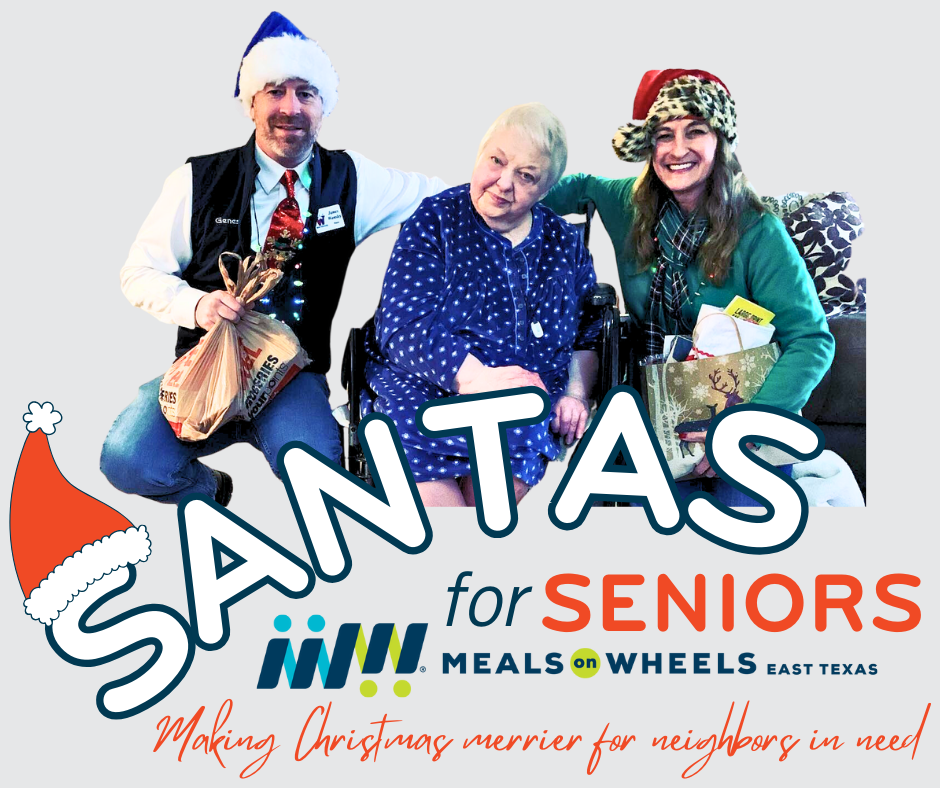 Making Christmas Merrier for Neighbors in Need
Our annual Christmas gift drive is one of our favorite ways to be more than a meal for the older and disabled East Texans we serve.
Too many of our clients do not have family who live nearby and face insufferable loneliness and isolation throughout the year; the holidays can exacerbate these struggles. Receiving a gift bag full of goodies that are comforting, special, or helpful lets our neighbors know they are not forgotten at Christmastime.
We will have collection boxes all over East Texas in the seven counties we serve – Gregg, Harrison, Henderson, Smith, Upshur, Van Zandt, and Wood – from November 6 through November 30 this year. See the site lists below for information about where the box nearest you will be placed and ready to receive your gifts.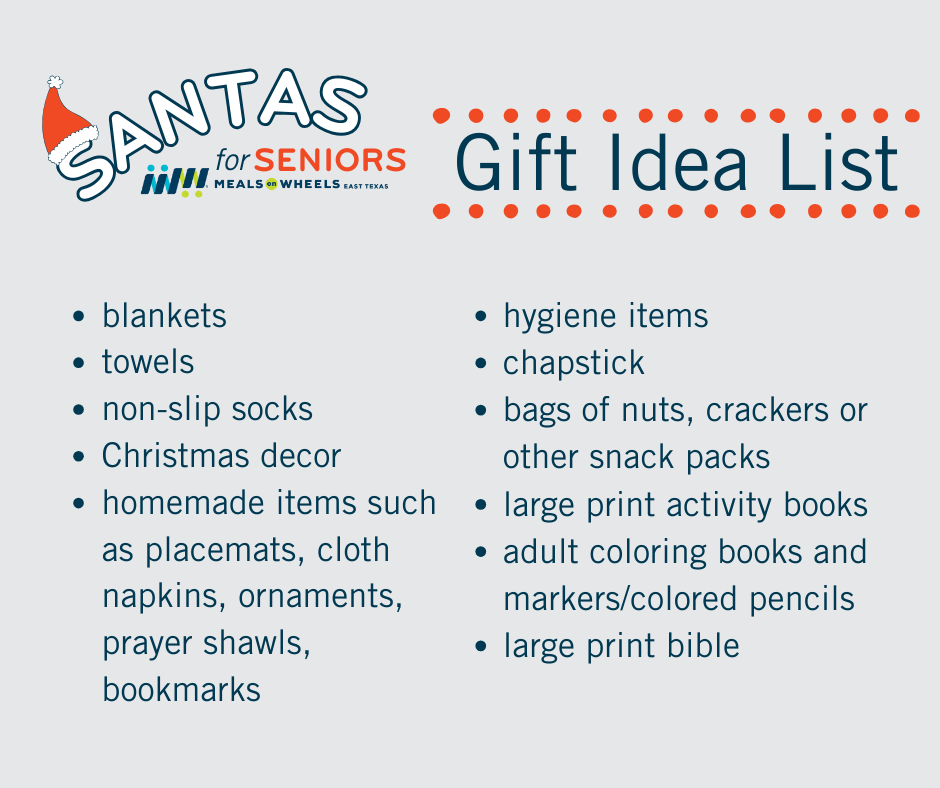 For convenience sake, we also have an Amazon Wish List! You can shop online and the gifts will be delivered to our Tyler location; please specify in your purchase notes if you'd like your gift to go to a certain county or community.
Our gift wrap parties will be December 6 and 7 in Tyler; the Meals on Wheels site near you will have their own gift wrap opportunities. If you would like to help sort and package gifts in Tyler, click the button below and sign up for the date and time that works for you and your team!
If you would prefer to make a donation to the Santas for Seniors Fund so we can purchase gift bags, tissue paper, and extra gifts if we do not collect enough, we would appreciate your support.
Donation Box Locations in East Texas
Athens
Athens Country Club
Henderson County Public Library
Chandler
Canton
First Baptist Church Canton
Cross Roads Church Canton
Edgewood
Cedar Creek Lake
Gilmer
Community Center
Rockhill Baptist Church
MOW Site in the Gilmer Senior Center
First Baptist Church Gilmer
Gladewater
Hawkins
Lindale
Gladewater City Hall
Brookshire's
Dollar General on W. Upshur and North St.
Holly Lake Ranch
Hawkins City Hall
XTO Energy Company
Hawkins Helping Hands
Lillian Russell Memorial Library 200 E Hubbard St, Lindale, TX
Longview
Kilgore
Malakoff
Bill Day Tire on South St.
Forever Young Activity Center
Meals on Wheels Site at Church on the Rock
Contact Tool Site Manager Michelle King if you'd like to help support this program in Tool. (903)571-1922
Meals on Wheels Site in the Masonic Lodge 212 Lake Dr. Wills Point, TX 75169
Whitehouse
Winona
Winnsboro
School Campuses
WISD Admin Office
Whitehouse City Hall
Hanks Senior Center
Starbucks on Hwy 100 and Acker Tap
First Baptist Church of Winona in the sanctuary foyer
Pine Street Baptist Church 611 W. Pine St. Winnsboro, TX 75494
Marshall
Tyler
Tyler cont.
Meals on Wheels Office at 3001 Robertson Rd. Tyler, TX 75701
Southside Bank on Beckham
Touchstone Imaging Tyler Open MRI
Henry & Peters PC – Tyler
Taylor Berumen State Farm Office
Simmons Bank at 155 and Loop 323 Tyler
Texas Workforce Commission on Troup Hwy
Plaza Tower Lobby
People's Petroleum Building
Bill Day Tire on Broadway
Bill Day Tire on W. Erwin
Peltier Subaru
Southside Bank on S. Broadway
Starbucks-113 NNW Loop 323