Adopt-A-Grandparent Monthly Giving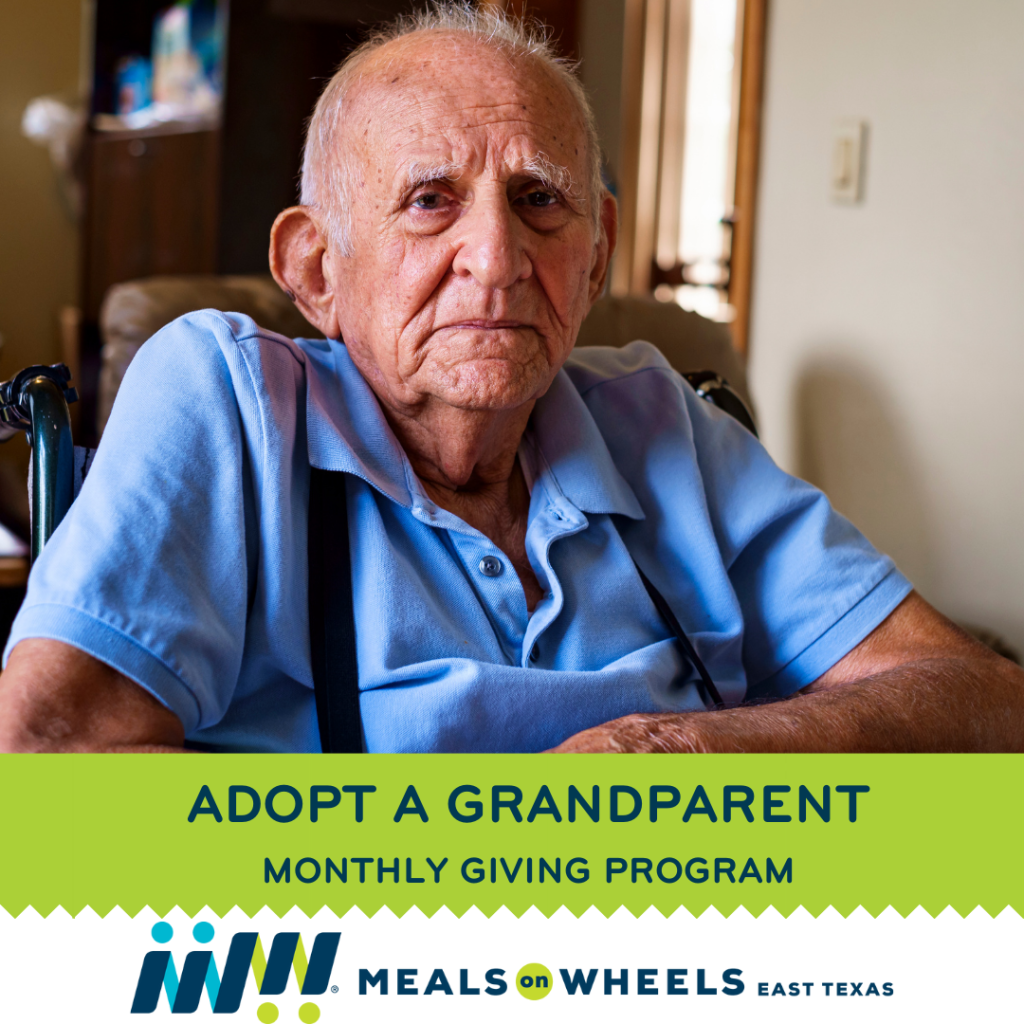 You can provide lunch for the East Texas "grandparent" you sponsor!
A gift of about $6/day will deliver a healthy meal to your sponsored grandparent for a full year. Set up a monthly online donation to sponsor one or more grandparents each month here.
You may also mail a check to us with "Adopt" in the memo line:
3001 W. Robertson Rd. Tyler, TX 75701
Donate Spare Change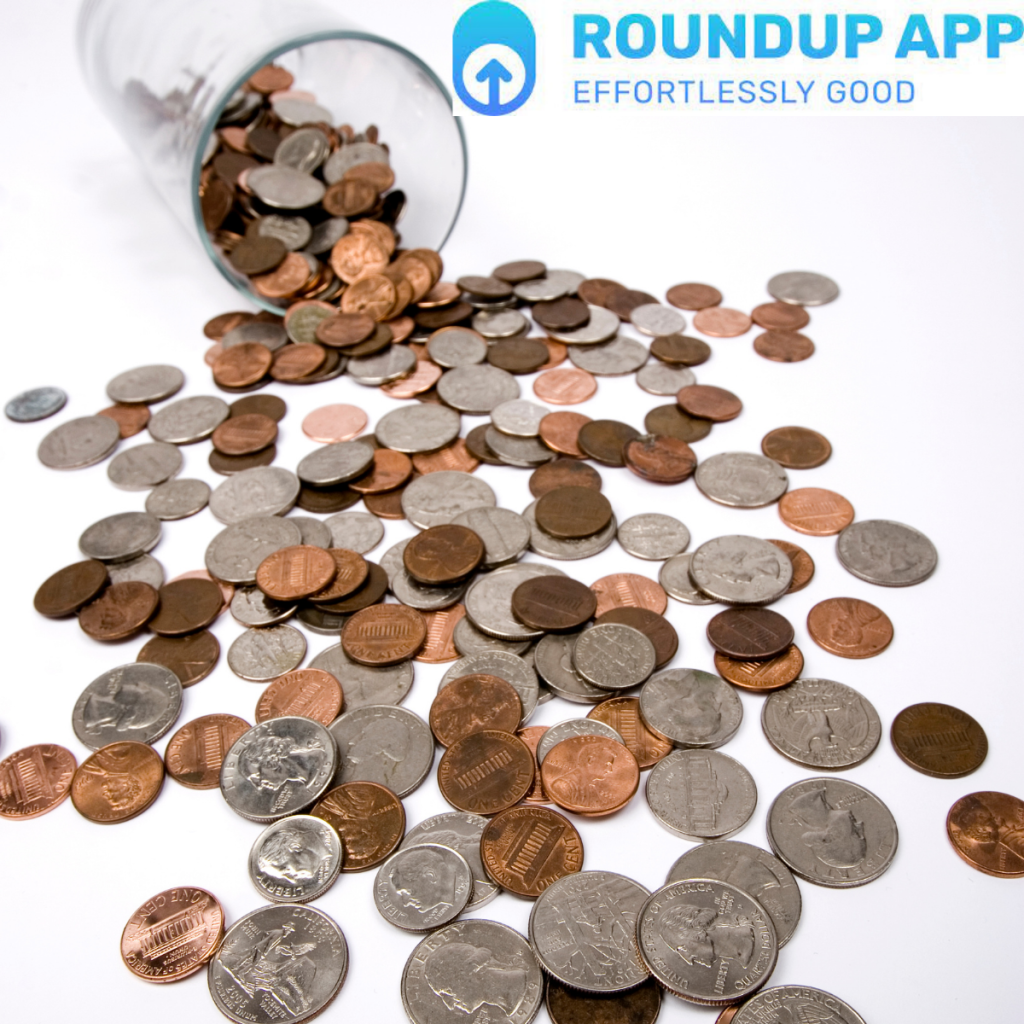 100 pennies make a dollar! And every dollar helps! This option is giving made easy.
Donate your spare change from everyday debit and credit card purchases using the free RoundUp app. RoundUp uses the secure payment processor, Stripe, and never has access to your card numbers.

Set up is simple, safe, and seamless! Click here to get started.
Donate Stock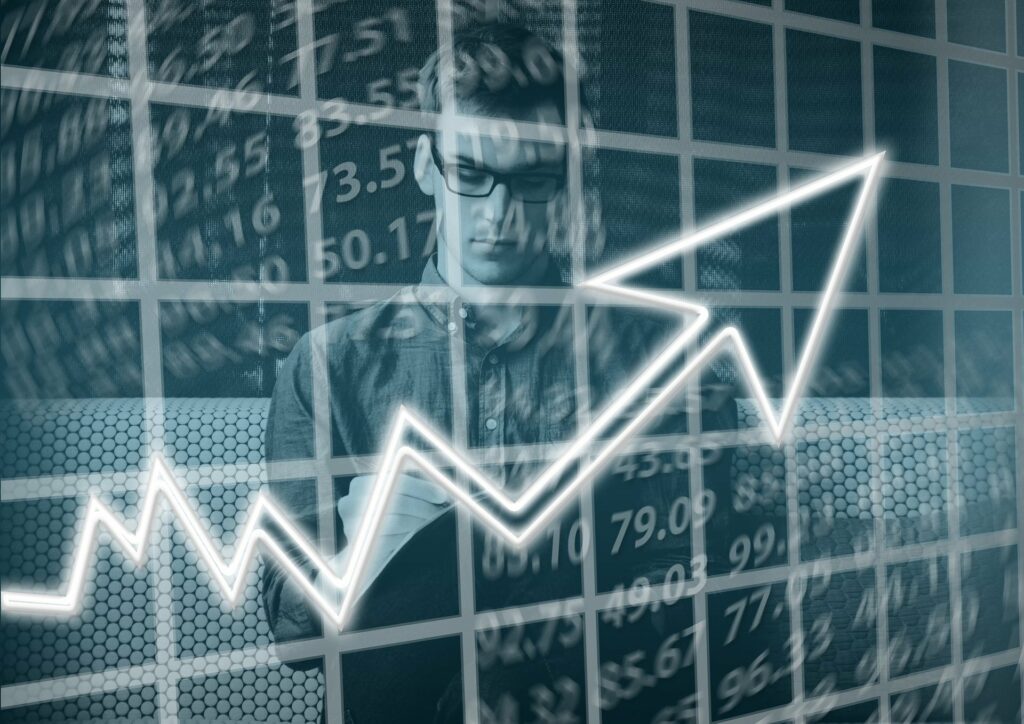 Click on the link below to find out how you can donate stocks directly to Meals on Wheels East Texas.
CARS Donation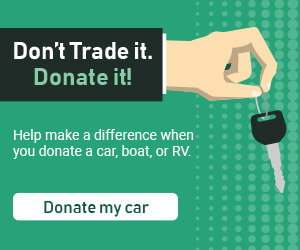 One way to give includes donating your car, truck, motorcycle, or recreation vehicles through the CARS (Charitable Adult Rides & Services) donation program.

Click here to learn more about the program and how it can benefit Meals on Wheels East Texas.
Planned Giving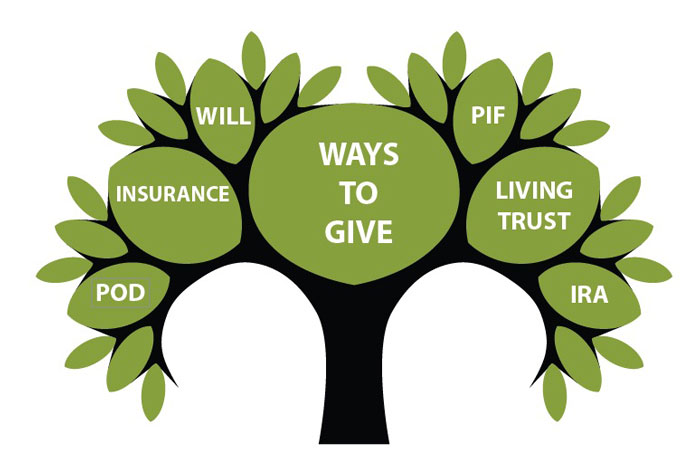 A planned gift may take various forms and is a wonderful way to support Meals on Wheels East Texas.
Gifts may be made in a number of ways and should be designated to:

Meals on Wheels Ministry, Inc.
3001 W. Robertson Rd.
Tyler, TX, 75701
Tax ID: 23-7313019
Volunteer Fuel Fundraiser
THIS GIVING OPTION WAS CREATED SPRING 2022 BECAUSE OF THE HIGH COST OF FUEL. IT REMAINS A VIABLE WAY TO SUPPORT OUR MINISTRY TO HELP VOLUNTEERS WHO STRUGGLE TO PAY FOR THE FUEL COST OF VOLUNTEERING.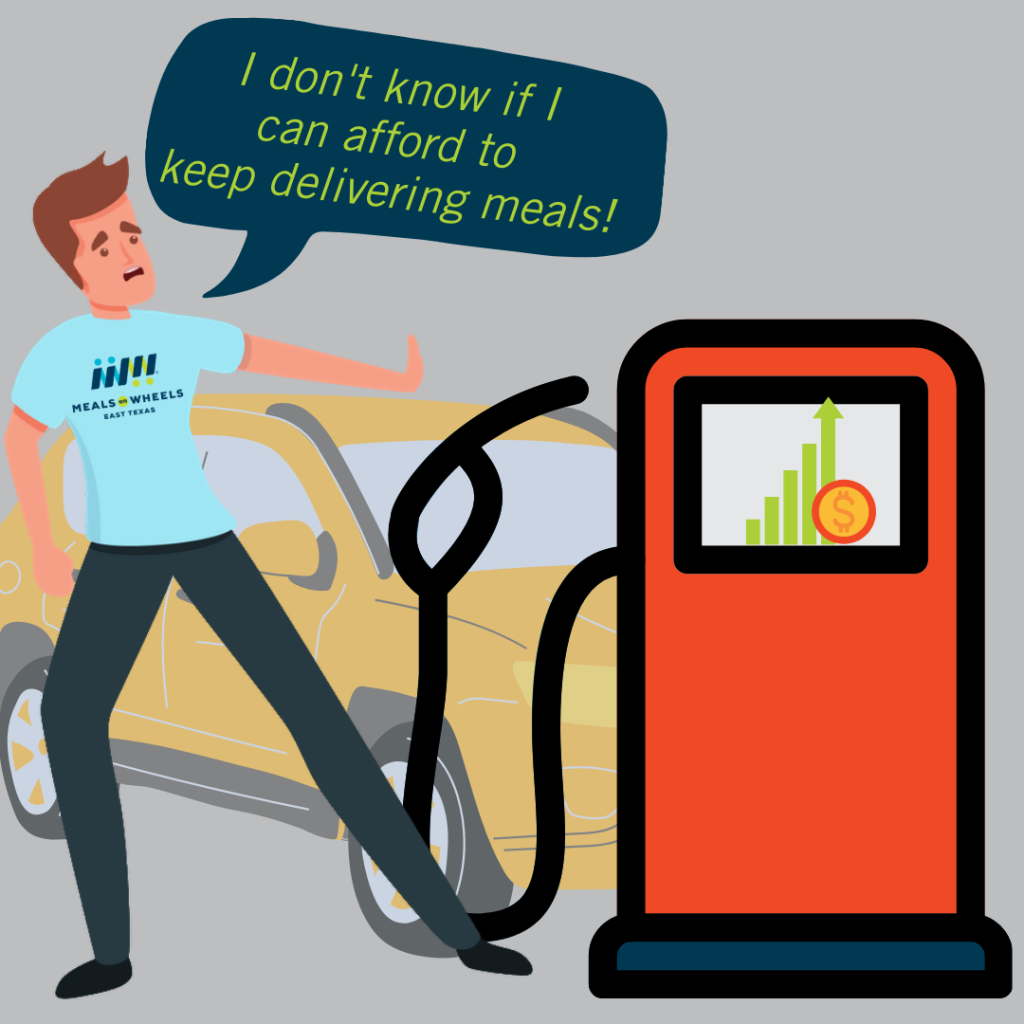 With the drastic increase in the price of a gallon of gasoline, our volunteers are struggling to continue delivering meals.
Make a charitable donation today with the "2022 Volunteer Fuel Fundraiser" campaign and 100% of your donations will go directly to volunteer fuel tanks!

Help keep our mission in motion! Click here to donate to the volunteer fuel fund.
Summer Fan Drive
THIS GIVING OPTION KICKS OFF MAY 2023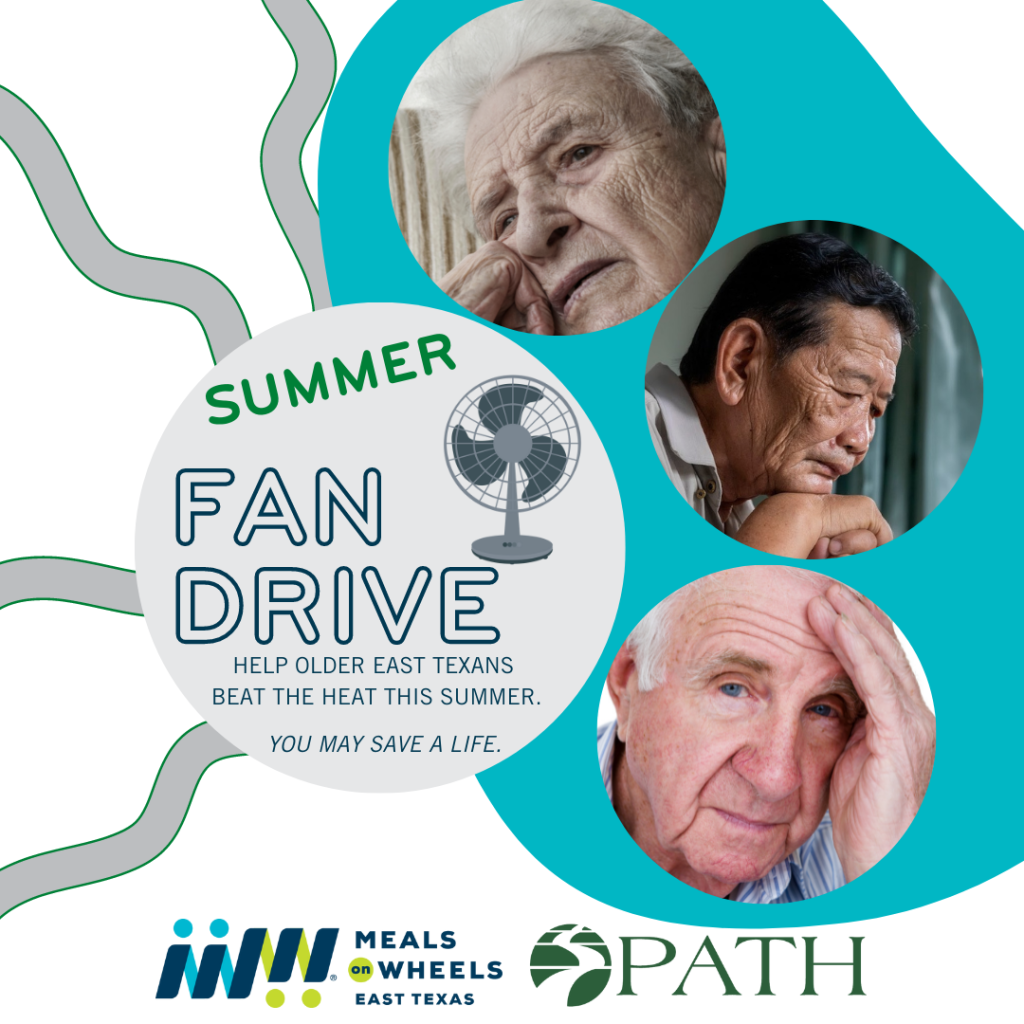 Summer heat means summer struggles for so many Meals On Wheels clients! We have partnered with PATH in Tyler to help acquire and deliver fans.
Donate here to help sponsor fans to help seniors beat the heat this summer. You could potentially save a life with your gift.

You may also drop off a purchased box fan at our location in Tyler:
3001 W. Robertson Rd. Tyler, TX 75701
Santas for Seniors
THIS GIVING OPTION WILL RESUME IN OCTOBER 2023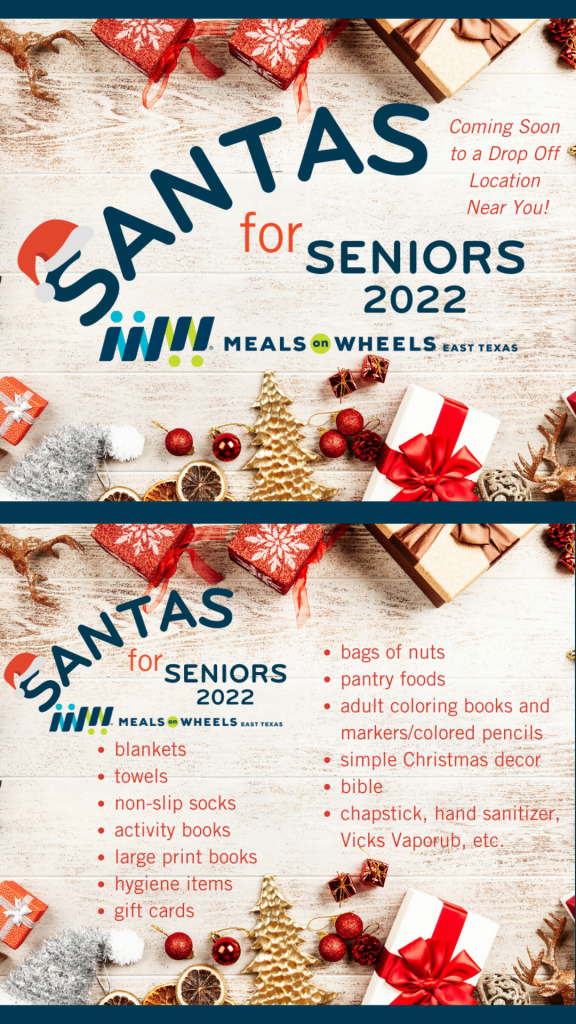 Christmas truly is the most wonderful time of the year!The Christmas season is a time for us to share extra love and care for our local Meals On Wheels clients in East Texas, and we aim to do exactly that with our Santas for Seniors Program.
We will have a list of drop-off locations near you coming soon to this page, but in the meantime, if you'd like to make a donation towards the purchase of gifts for our older and disabled East Texas neighbors, you may do so here or mail in a check or money order per your preference.
Meals On Wheels East Texas
"Santas for Seniors Project"
3001 W. Robertson Rd.
Tyler, TX 75701
Thank you for helping us make Christmas a little more meaningful for many who do not have family nearby and may feel lonely or forgotten during the holidays.