The Aging Boom of the Baby Boomers: Will Meals On Wheels be Ready?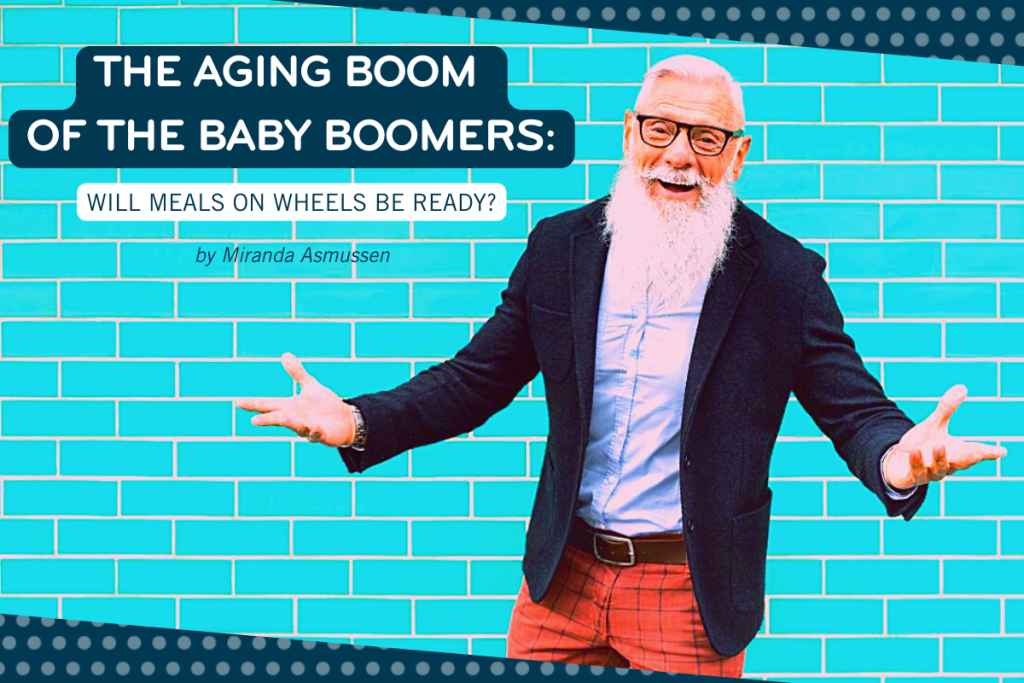 Here at Meals On Wheels Ministry, Inc, we are passionately dedicated to ending hunger and isolation in East Texas for our older and disabled homebound citizens. Our mission drives every detail of our budget, our daily activities, our decisions, and our goals. We are facing unprecedented need in the coming decade due to the changing nature of aging in America.
The Greatest Generation (ages 90+, born in 1927 and earlier) and The Silent Generation (ages 72-90, born between 1928 and 1945) gave so much to our country during their younger years; the least we can do is help them age in place, nourished by a healthy meal each day and a friendly visit if they reach a point where they cannot prepare meals for themselves and are on such a fixed income that affording groceries is a strain they simply cannot handle. These two generations have been our primary client base for quite some time, and we have been honored to give back in honor of their contributions to our great country.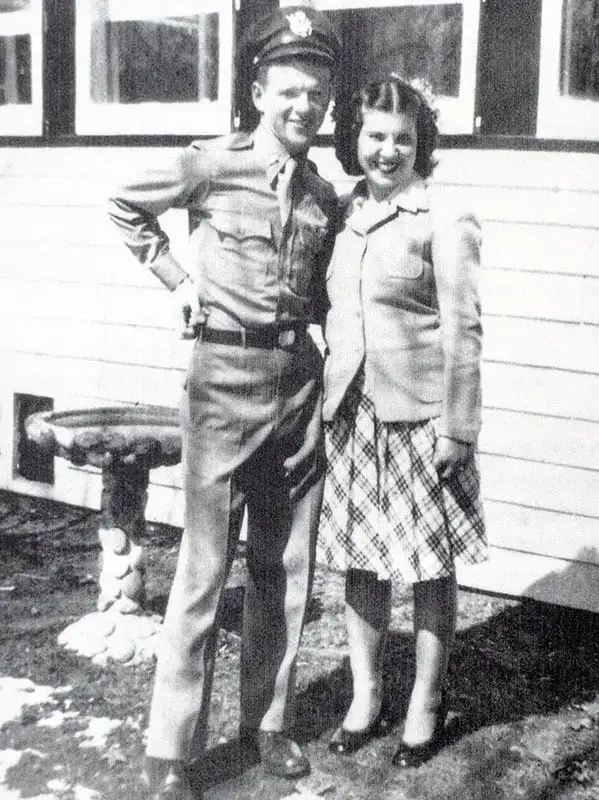 Our Baby Boomers generation (ages 53-72, born between 1946 and 1964) is pushing our population towards the first time in U.S. history when people over age 50 outnumber the rest of the population. The shift means Meals On Wheels East Texas has the opportunity for growth in our client base beyond anything we have ever seen.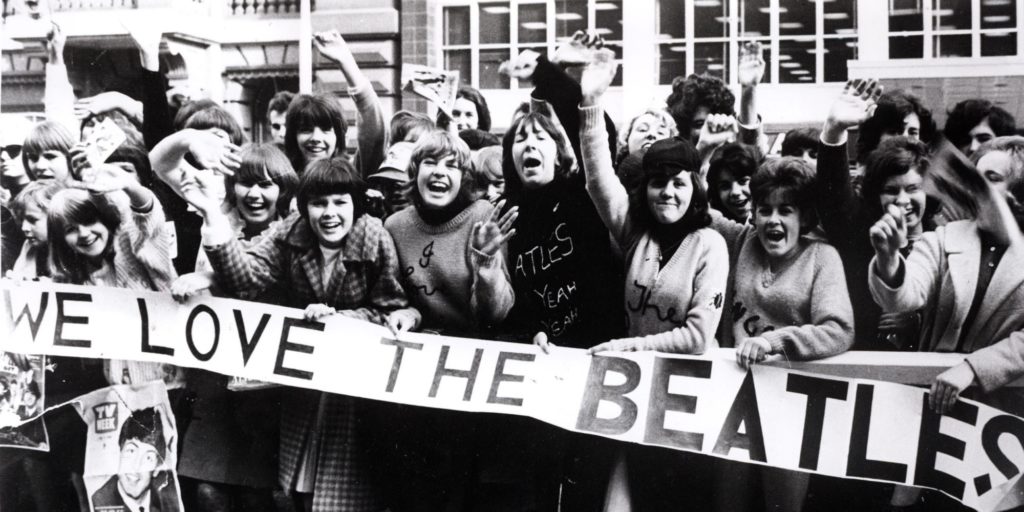 Our community, business, church, and individual supporters keep our mission in motion financially while our volunteers are the hands and heart of our outreach, giving sacrificially of their time and personal vehicle (and expensive fuel) to ensure our treasured clients receive that hot, healthy meal four days a week and a frozen meal to reserve for Fridays or the weekend as well as shelf-stable meals as many times a year as we can manage. The safety check that volunteer meal-delivery knock at the door inherently brings with it has been a life-saving measure many times over. Twice in the last four months, a couple that volunteers in the Tool, TX, area have called the paramedics on behalf of the same client who has severe COPD and was found struggling to breathe. Stories like this come in regularly from our volunteers.
Isolation and loneliness continue to plague our oldest East Texans who are oftentimes living alone without family nearby to check in on them. Our volunteers are a daily reminder that someone cares, someone can take pause and listen, someone values their stories and legacies, someone is reachable by phone should an additional need arise, and someone is a reliable source of support in their lives. The aging of the Baby Boomers generation means we have more people to reach and will continue to need more volunteers and donors to assist us in keeping up with the demand.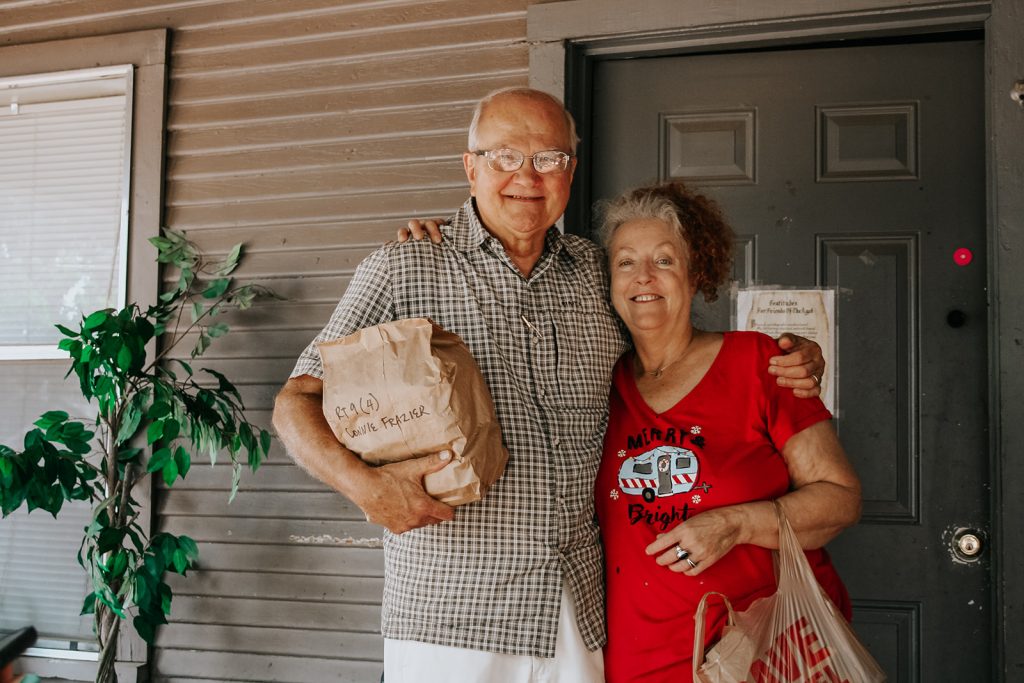 Our continued ability to serve and serve well lies in the hands of our donors, partners, and volunteers. We need people with willing hearts and helping hands to continue to serve with us as we look forward to the imminent growth on our horizon in the coming decade as Baby Boomers increasingly need service and support. We are actively preparing to meet the needs of our community by focusing on integrity in the faithful stewardship of our funds, excellence among our staff, growth in our volunteer base, and the creation of new partnerships or the expansion of historical partnerships in order to prepare for the immediate future.
How You Can Help
VOLUNTEER TO DELIVER MEALS
We always need more Meal Delivery Volunteers all over East Texas in Gregg, Henderson, Smith, Upshur, Van Zandt, Wood, and now also Harrison County who can donate their time and use of their vehicle; we do have a short-term ability to offer fuel expense help to those most in need of financial assistance with fuel to facilitate their ability to volunteer due to the generosity of a select group of donors. Please do not let the cost of fuel keep you from signing up. Fill out our volunteer application online!
NON-MEAL DELIVERY VOLUNTEER ROLES
We have a new need for morning in-house volunteers in our Tyler location who can serve for about an hour Monday through Thursday from 8:30-9:30am to pack our milk cartons in cooler bags and execute other preparatory tasks. Call our office to inquire and receive more info or sign up. (903)593-7385
SPECIAL PROJECTS VOLUNTEERS
We also always need as-needed volunteers who can help with special projects from time to time. Call our office to be put on our as-needed project list so you can be notified when opportunities arise such as the holiday season when we need help packing up gift bags. (903)593-7385
PARTNERSHIPS
We need more community partners with other agencies, clubs, and nonprofits to allow us to layer in additional support measures. You can participate in our Adopt A Route program to provide fans or heaters, birthday and Christmas gifts, and more outreach as a company or club, for example. We are happy to send our Executive Director or Marketing and Public Relations Director to come speak at your next event or meet with your personnel to discuss partnership opportunities.
DONATIONS
We always need donors to help us continue to feed our clients, execute special projects, expand our organization, and remain financially sound in lieu of economic downturns and inflation that have been the norm of late. The BEST way you can help support us as a donor is to enroll in monthly giving through our Adopt A Grandparent program! For about $175/month, you can support a local grandparent in your county all month long! Visit our site for info on giving.
VEHICLE FLEET SUPPORT
We maintain a fleet of over 60 vehicles to keep our mission in motion across East Texas! We cover an over 2500 square mile area so reliable vehicles are a necessity. We currently need 10 additional vehicles to keep our fleet complete. We need one cargo van and nine sedans or compact SUV's at the moment to continue to deliver meals in our seven-county area – we are in the process of acquiring part of Harrison County. You can donate money to this campaign, sponsor a vehicle with your business logo on it, or we have the CARS program where even a vehicle that is not running can be picked up and auctioned off at no cost to you with proceeds going to Meals On Wheels Ministry, Inc. Learn more about donating through the CARS program.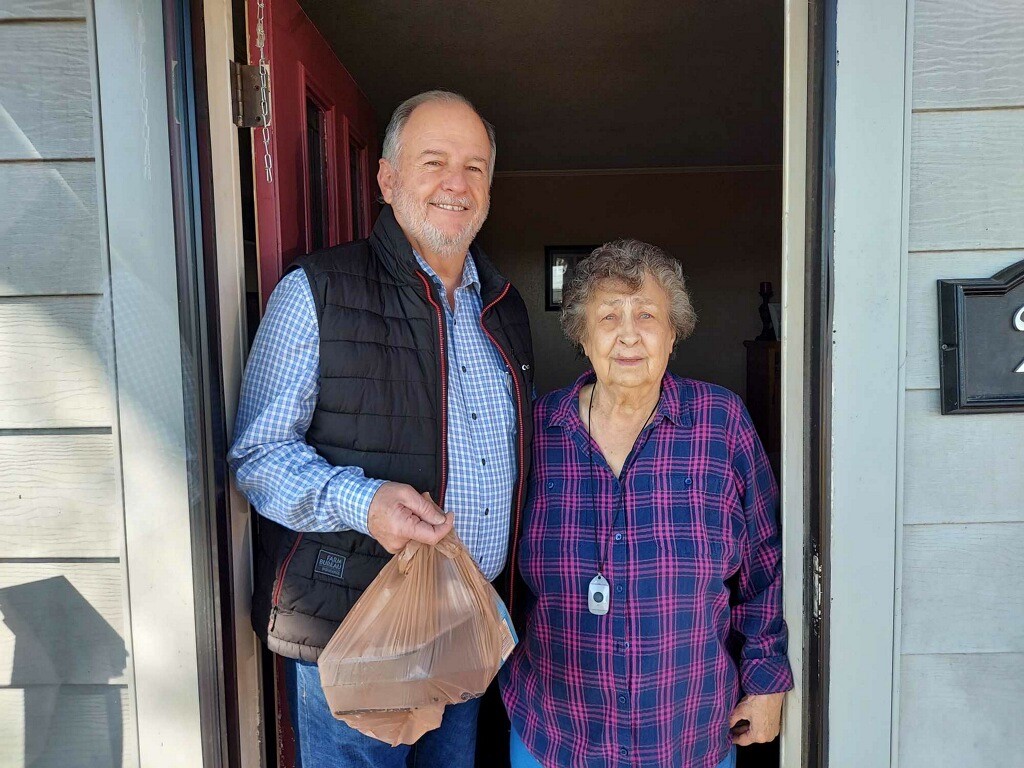 ---
A Mission That Matters
We can only do what we do because of our incredible community here in East Texas!
–> Every helping hand matters.
–> Every gift matters.
–> Every hour of service matters.
We are much more than a meal to our clients, and we value your support more than you can possibly imagine because of the impact we see it make.
We see the client smiles, the fulfillment the volunteer experience brings, and the overall effect of stepping into the lives of people who need us in meaningful ways.
Partner with us in whatever way you can and step into the blessing of service and sacrifice by our side.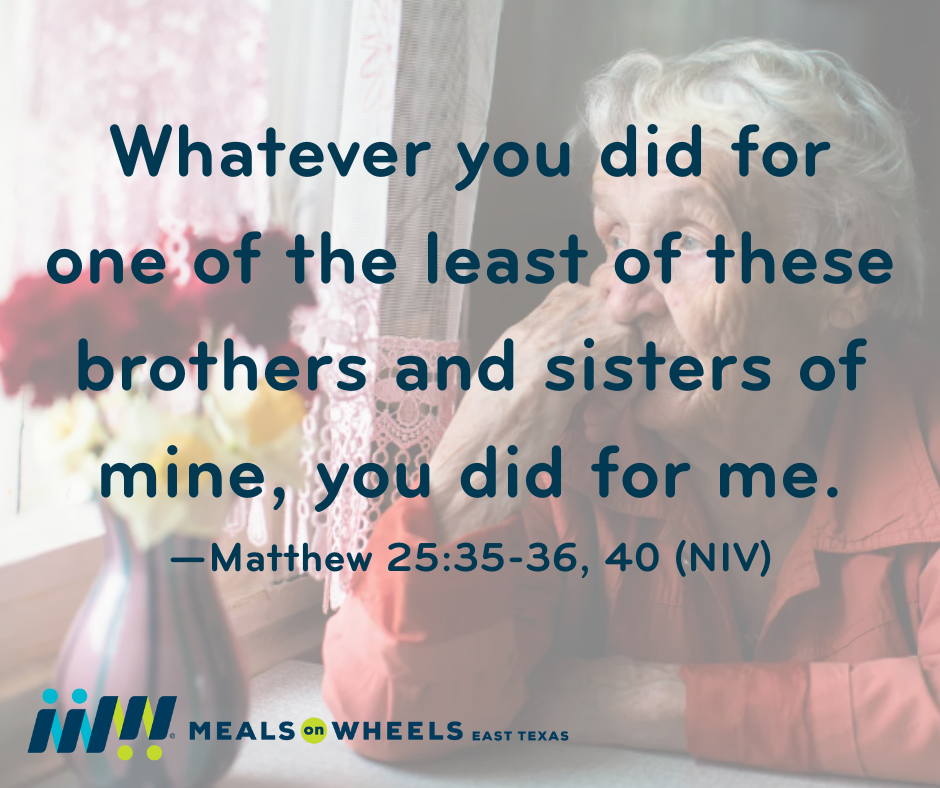 In all things I have shown you that by working hard in this way we must help the weak and remember the words of the Lord Jesus, how he himself said, "It is more blessed to give than to receive."

Acts 20:35 ESV
Give, and it will be given to you. Good measure, pressed down, shaken together, running over, will be put into your lap. For with the measure you use it will be measured back to you.

Luke 6:38 ESV