Kindness is a Napkin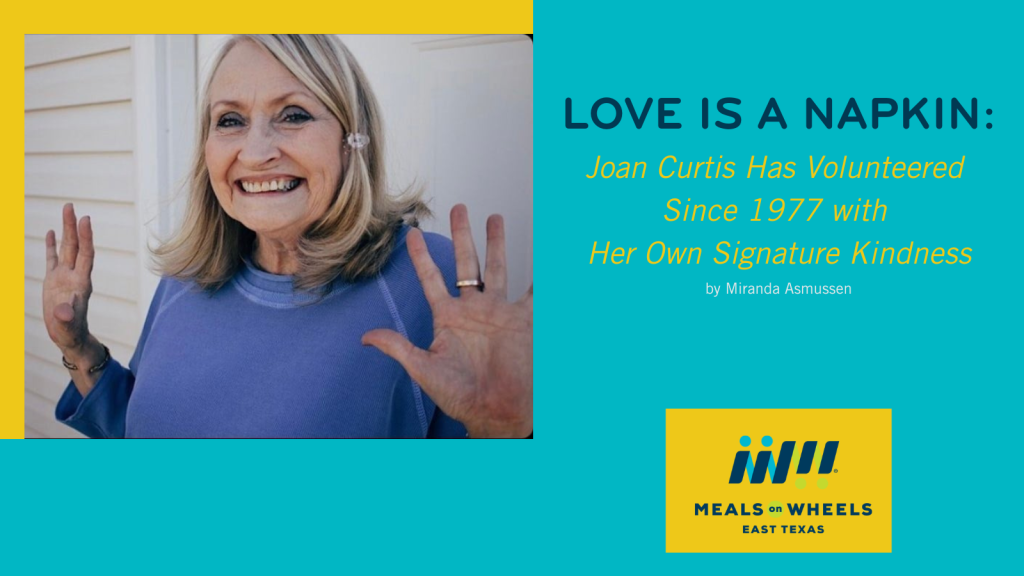 "I never eat without a napkin, and neither should they," says Meals on Wheels East Texas volunteer, Joan Curtis.
Joan has been volunteering with Meals on Wheels in the Tyler, Texas area since 1977, an impressive 45 years of consistent service. And she always includes a festive napkin in her delivery bags, her signature act of kindness year after year to every client on her route.
A longtime member of First Presbyterian Church in Tyler, Joan began volunteering when her friend from church, Pat Roberts, invited Joan to join her in delivering meals. She and Pat shared two routes, delivering to the same clients on different days of the week, giving them both an automatic substitute volunteer if they ever needed to swap days.
Pat reflects, "Joan and I had two routes and if one of us could not deliver the routes, the other would make sure we kept it covered."
Even though Pat, who was one of the Meals on Wheels East Texas' original volunteers who served from 1973 to 2019 – 46 years total -, has met mobility issues in her golden years and can no longer volunteer, the two friends stay connected even now, forever bonded by their 42 years of volunteering together.
The granddaughter of immigrants from Norway, Joan cites her family as the root reason for her focus on volunteer work as an integral part of her life. "My parents brought me up to know not everyone is as fortunate as us and to love our neighbor," Joan recalls. "I remember hearing 'feed my sheep' in church as a little girl and it has just stuck with me all these years," she adds, "because it is so simple."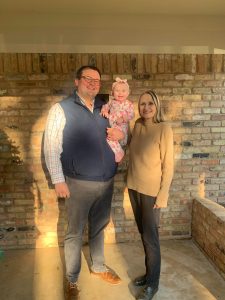 In her early volunteer days, Joan, now a great grandmother to eight-month-old Jones Blaire, brought her three young children along and remembers with a smile how her son, Josh, would carry meals to the door when he was just five years old, delighting her clients. Sadly, Josh passed away 15 years ago but Joan's daughters, Shamaine and Sissy, remain active in their communities and careers, continuing their mother's legacy of serving others. Josh's son, Austin Chambers, and his fiancé, Lauren Cathey, live here in Tyler, now delighting Joan with many opportunities to babysit their daughter, Jones. Joan's eyes dance as she reveals her adoration of Austin, who she says sounds "just like his dad," and baby Jones has exponentially increased her joy.
Continuing down memory lane, Joan recounts, "I used to pick up meals at a little church, then a fire station on Gentry, the Garden Valley Road location, and now, here on Robertson Road."
Joan's volunteer history is impressive but what truly stands out is her heart. Every day she volunteers, she brings in various packages of festive, colorful, or holiday-themed napkins to add cheer to her clients as they enjoy their delivered meal. With empathy and compassion, Joan puts herself in her clients' shoes and considers how she personally desires to have a meal…with a napkin. With this simple act, her clients feel loved, respected, honored, and treasured.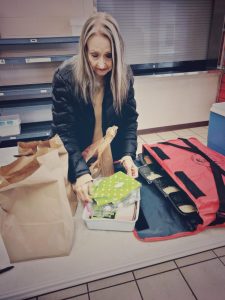 Both Pat and Joan agree that delivering for Meals on Wheels is more than a meal and both ladies note the extra efforts to address clients' needs as the real joy-maker in their volunteer work. Pat summarizes it best:
You get really close to some of the patrons; it was my pleasure to not just deliver a meal but to see what else they needed." She continues, "I felt like this was a small way I could help others, and I think Meals on Wheels is a very important mission; I am so happy I got to be a part of it for so many years with my dear friend, Joan.

– Pat Roberts, Meals on Wheels Volunteer 1973-2019
A spirited volunteer, Joan asserts, "It really is the little things that matter most; if I can help in some small way to make someone's life better, that is exactly what I am going to do." She adds, "Taking my lunch hour now and then to help the less fortunate is the least I can do."
We agree, Joan Curtis, and we salute you and Pat for your partnership in service and, especially, your personal kindness through napkins.